Cozy Romantic Setting Ideas For Intimate Events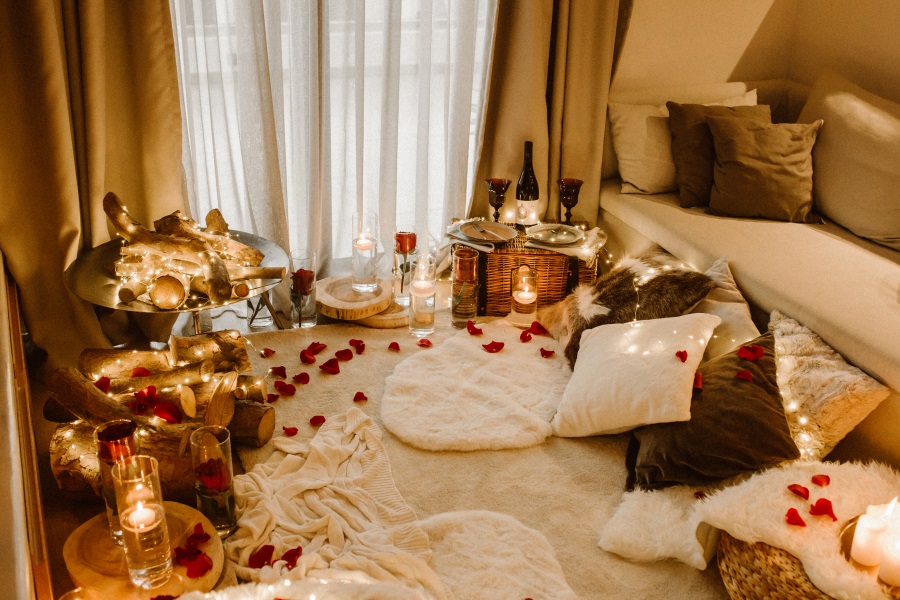 If there is one thing the pandemic has taught both planners and clients, it's that an event doesn't have to include a never-ending guest list to be successful. On the contrary, in the past couple of years, intimate events have become a huge trend, with more and more people choosing this cozy, warm, and relaxed type of celebration for their special occasion.
Of course, when we think of intimacy we intuitively pair it with romance. Romantic events like weddings, proposals, anniversaries, Valentine's day celebrations, and surprise birthday parties, all somehow become even more magical when they have a more intimate feeling.
Whatever intimate occasion you are planning to celebrate, depending on your personality and style, we can take the stress out of planning all the fine details; we can create a most magical romantic setting, either in the comfort of your own space, or in a private hotel or Airbnb suite. Here are some of our favorite ideas to get you inspired for your next intimate event.
Soft candlelight dinner
If you're celebrating something special with your significant other then what better way to celebrate than by creating a magical experience with a candlelight dinner. It can be just the two of you, or you can invite your closest loved ones. When it comes to choosing a venue, you have numerous options including your own home or garden, a fantastic restaurant, a beautiful beach on a stunning Greek island, or a gorgeous private suite.
No matter where you choose to host your intimate dinner, we'll make sure to have the perfect balance of candles, fairy lights, and lanterns to create a cozy and warm ambiance.
Nothing says love like flowers, and we'll pay special attention to the floral arrangements and make sure to scatter rose petals all around! Harmonious music and low lighting are also a must to create the right atmosphere. Last but not least, whether you're thinking about cooking or catering, we'll help you choose your menu options carefully. Oysters, for example, are a natural choice for their aphrodisiac quality, but if seafood is not the preferred choice, then artichokes and avocados are also known for their love-sparking qualities too!
Cozy Picnic Indoors
When thinking of a picnic, you probably think of a more laid-back and informal affair, however, did you know that we can give this casual classic a luxurious upgrade to make it date night-worthy!?
Allow us to create a cozy and dreamy setting by beautifying your picnic with elegant candles and flowers. We'll replace the standard picnic blanket with something more opulent, such as silk sheets or a faux fur rug, and decorate with lush, velvet cushions – a major winter trend. Picnic finger foods are a must-have, but they should also be romantic; the combination of cheese, foie gras, French baguette, and grapes never fails to amaze. We'll be sure to have a bottle of your partner's favorite wine or champagne!
Dinner In Bed
Now this is a great way to surprise your other half and make them feel like they're the star of a rom-com movie set in Greece!! A definite upgrade from the breakfast classic, dinner in bed is totally unexpected and utterly romantic. We can begin by decorating your bed with hundreds of rose petals either in a heart shape or any unique design you like! We will make the most of any shelves or low surfaces by lining up scented candles for some sensuous vibes.
For a playful vibe, we can decorate the room with impressive balloon garlands, or for an added touch of enchantment, we absolutely love large illuminating letters or numbers and saying 'Yes!' to making things light up all bright and happy. Once the setting is ready, you can enjoy your dinner on trays topped with flowers, silk napkins, exclusive luxury tableware, and other pretty garnishes.
Romantic Bathroom Date
What better way to get all cozy and warm with your sweetheart than with a romantic bathroom date! Whether you choose to celebrate in a hotel suite with a jacuzzi or at home, the idea is the same. We fill up the bathtub with hot water, add tons of bubbles, rose petals and lovely floating candles. We can even fill the room with tall candles, fresh flowers or balloons for the ultimate decor setting.
Of course, we'll also prepare a tray full of special treats, such as all-time-favorite chocolate strawberries and champagne. Once you're both comfy, the only thing you have to do is drop a bath bomb for an explosion of color and essential oils.
To end your intimate event in a most romantic way, we can create a thoughtful custom gift that will surprise your partner and leave them absolutely speechless!
If you're ready for a once-in-a-lifetime romantic and intimate event, we're here to make it a reality. Get in touch and let's make some magic come to life!
LET'S PLAN YOUR BIG DAY,
TOGETHER!
AS FEATURED ON

​