Balloon Décor For All Events & Ages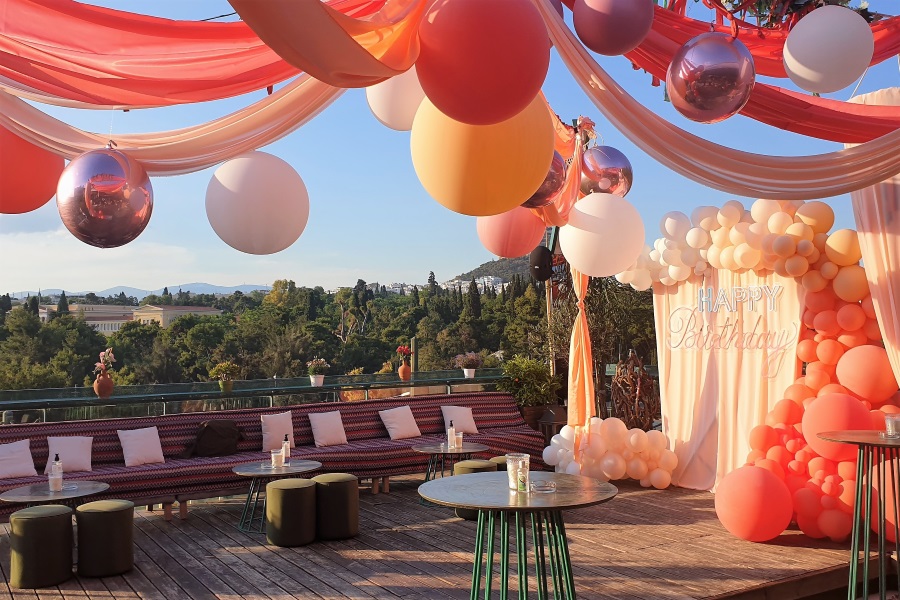 What's everyone's favorite, old-time-classic party decoration? Balloons, of course! From weddings and baptisms to birthday parties and proposals, balloons are an excellent addition to any event, they always offer a happy-inspired wow factor for your guests and elevate your celebration!
A classic party symbol, balloons are fun and colorful, adding a playful touch to any venue; be it a large outdoor space, a yacht or even a private suite; not to mention that they can help pull together the whole look of your event. Although balloons are such a common decor piece, there are so many twists that can transform simple balloons into the most unique feature of your next event.
From balloon garlands, balloon walls to fun arches, the list of creative ways to incorporate balloons into your special celebration is endless, not to mention the large variety of textures you will find. With so many options to choose from, we've gathered some of our favorite balloon decor ideas that will take your party to the next level!
Balloon Garlands, Arches, Walls & Ceiling Installations
If you want your event to make a lasting impression, then go for massive ceiling installations, gorgeous balloon garlands draped from the ceiling or wall. For events with a main entrance, you can also use garlands as arches to mark and highlight the entrance. Put them over the mom-to-be while she's opening presents at the baby shower or over the couple at the wedding ceremony. Make it an impressive focal point at the photo backdrop or dessert table. Create bundles of color explosions, Ombre gradients, white clouds or bubble effects! Incorporate neon lighting which is the latest trend at any event. One thing is for sure, your guests will be in awe!
Add Confetti
What better way to add some glam and sparkle to your event than with confetti? You can either dip colored balloons in gold, silver or colorful confetti, or go for confetti-filled clear balloons. If you're planning a gender reveal party, we suggest filling balloons with blue or pink confetti and popping them for a fun surprise announcement.
Personalized Balloons
Put a special message or image either inside or on the balloons and make them uniquely perfect for your event. For example, put the name of the baby-to-be at a baby shower or baptism, or a special date or love note for a proposal or anniversary party. What a unique personal touch!
Dress In Fabric
Wrapping balloons in fabrics such as satin or tulle perfectly blends the magic of the balloons with class and sophisticated romance. For a clean aesthetic, opt for pastel colors, but if you prefer a more dramatic look, then go for bold and daring combinations.
Incorporate Flowers & Greenery
Flowers and greenry are a sure way to create a fresh ambiance for your event. Weave them into balloon arches, hang them in floral strips from high helium balloons or include them in a balloon bouquet. A beautiful touch of greenery is always essential, especially for rustic or boho affairs.
Balloon Chandelier
If you're looking for a truly unique and majestic centrepiece for your event, then colorful balloons hanging over your table as a chandelier will surely impress your guests. Drape long flowy fabrics or install fairy lights on the ceiling and create a fantasy-like setting. This creative and imaginative idea will also be an ultimate conversation starter for a lovely dinner party setting. Take it up a notch and include marble, orbz, metallic and chrome textures!
There's no doubt that balloons can bring a happy and personal touch to any event, turning it into a most unforgettable experience for you and your guests. If you're not sure how to incorporate them at your next event, get in touch with us and we promise to push our creative boundaries so that we design something exceptional for your special day!
LET'S PLAN YOUR BIG DAY,
TOGETHER!
AS FEATURED ON

​