Top Wedding Proposal Spots in Santorini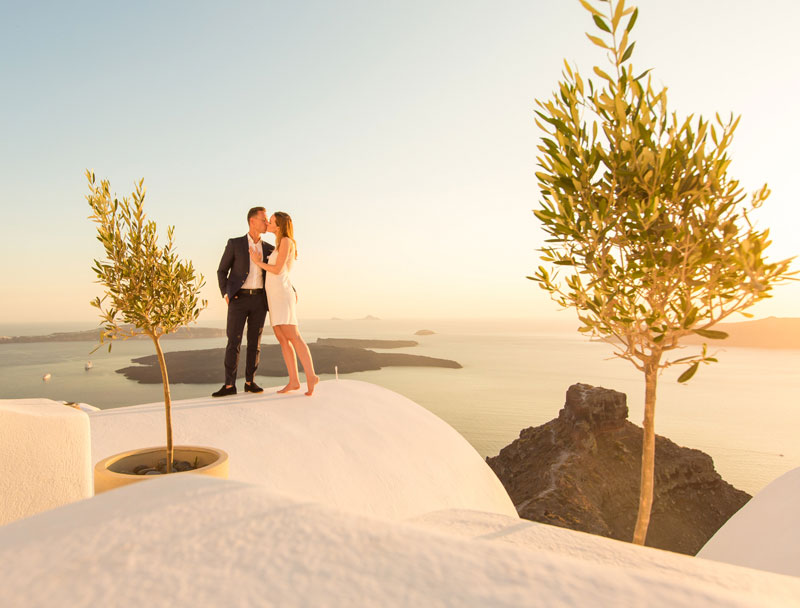 Santorini is a picture-perfect island located in the Aegean Sea at the southernmost part of the Cycladic islands. Arguably the most famous of Greek islands, it is home to less than 20,000 locals, but hundreds of thousands of travelers visit Santorini every year to enjoy a once-in-a-lifetime vacation in Greece. Santorini is known for its incredible views above the volcanic caldera, its pristine and traditional white villages, blue dome churches, awe-inspiring sunsets, unique wineries, and high-end cave-like accommodations. The island's impressive views coupled with its fine luxury hotels, make it the perfect island for a unique and romantic luxury wedding proposal in Greece. We've put together our top recommendations for a romantic wedding proposal in Santorini!
A Popular Proposal
Caldera Wineries
Santorini is home to a couple of wineries that overlook the spectacular caldera. They are among the most well-known wineries on the island, with visitors enjoying wine tastings and the magnificent caldera views at any time of day. These wineries are also very popular venues for couples to get engaged or married at, as they are the only wineries that offer a wonderful private terrace on the famous Santorini caldera. With such stunning views to the sea – perfect for sunset too – we understand why so many couples choose this location to say 'Yes' and 'I do!'
The engagement terraces at these caldera wineries are very simple and offer a blank slate for us to decorate according to your personality and style. Yet, with such astonishing views (seriously, you really can't get enough!), it's likely that you'll want to keep the decorations minimal with some beautiful floral arrangements, perfectly-placed candles, a bottle of champagne, some music for your proposal, and of course a photographer to capture your perfect proposal moment.
The best time of day for a proposal at the caldera wineries is just before sunset. In Santorini, the sun can be scorching hot and since these venues have western facing views of the sun, it can get quite hot on the terraces. At the same time, once the sun starts going down, you will have one of the best sunset views in Santorini! Arranging your wedding proposal, a little before sunset gives you enough time to ask the love of your life to get married, have a toast with champagne to your engagement, and then sit back and enjoy the sunset. These private terraces at sunset are so dreamy, romantic, and truly beautiful – they certainly are exceptionally memorable places to host a wedding proposal in Greece.
A Most Romantic Proposal
Beach or Caldera Horse Ride
Horse rides are an extraordinary experience in themselves, and experiencing a horse ride for two is truly romantic and a forever memorable experience. Imagine being together with your loved one and riding across one of Santorini's black sand beaches alongside tall white cliffs, or riding along the famous Santorinian caldera soaking up all the beauty around you.
Let us add to your experience by arranging a private guided tour along Eros Beach and up to the lookout spot across the entire island! With the beautiful view, we'll arrange for a perfect and romantic picnic set up like this ultimate romantic wedding proposal for your luxury wedding proposal in Santorini. As we say, less is more, and we suggest a simple arch decorated with fairy lights and a few cushions to create a cozy atmosphere together with some live music playing in the background – that's all you need! The perfect time for these horse riding wedding proposals would be in the afternoon so you 'pop the question' as the sun sets before you. Of course, if you would like to follow a more Greek tradition, you may like to consider a donkey ride along one of these trails.
Simple Luxury Proposal
Caldera Private Terrace
The private terraces on the caldera with panoramic views of Santorini, the Aegean Sea and the volcano at sunset offer a perfect touch of luxury and elegance. Surrounded by this breathtaking view and landscape, beautiful flower arrangements, candle light and fountain fireworks will certainly elevate your private terrace into a luxurious wedding proposal. This wedding proposal in Santorini is one of the most popular themes as it combines all of Santorini's most unique characteristics, a backdrop of all the famous white washed cave dwellings – for you both to hold onto forever. Click here to read more ideas on planning an ultimate luxury proposal in Santorini.
The Romantic Adventure Proposal
Skaros Rock
If you're looking for a more off-the-beaten-path wedding proposal location in Santorini, then the imposing Skaros Rock in Imerovigli is a unique and breathtaking choice. Skaros is a large rock that juts vertically out of the sea and offers incredible views of the caldera, as well as of the beautiful village of Imerovigli. This Santorini landmark was once the most important fortress on the island; today it is a popular hiking spot for visitors from all over the world.
Once you walk the many steps down the cliff to Skaros (it's safe, we promise), there are a few spots to make a special wedding proposal. If you're looking for even more of an adventure, you can climb to the very top of the rock and have views of the entire caldera. If you don't want to walk the hundreds of steps down, there's also a quaint church on the same path to Skaros that will give you a nice terrace to admire Skaros from a close distance. Whichever spot you choose, having a wedding proposal at Skaros Rock will surely be unforgettable!
While the natural landscape at Skaros is enough for a romantic setting, we recommend arranging for a colorful bouquet of flowers, candle light, a small sample of traditional Santorinian delicacies, a drink of your choice or even arranged hidden surprises; having an event planner make these arrangements for you will give you the opportunity to enjoy every moment of your wedding proposal in Santorini, not to mention fully enjoying watching the sunset from Skaros Rock. The best time of day for a proposal at Skaros is just before sunset, as you will definitely want the sunlight to walk down the steps. After sunset, you can head to the beautiful and classic village of Imerovigli for a celebratory meal. There are a few well-known and delicious restaurants to enjoy dinner with caldera views and the evening lights of Imerovigli village.
A Simple Or Extravagant Proposal
Black Sand Beach
Made of volcanic sand and pebbles, the black sand beaches are among the most unique places to see in Santorini. For a laid-back, simple, and quiet sandy beach wedding proposal, Vlychada or Eros beach are our top recommendations. Their tall ivory-colored pumice formations in contrast with the black sand and blue sea, offer a truly stunning setting for a romantic proposal; however, this location can also be extravagant too, as we can arrange for you and your loved one to arrive by helicopter and have a private heli tour around Santorini! We can arrange warm, cozy picnic set ups with flowers and candles for a magical atmosphere or if you want something more lively and with the comforts of a venue service, we recommend a hip beach bar restaurant, to follow your wedding proposal with a delicious dinner by the sea.
At either beach, depending on your personal style, decorations can be simple or elaborate; at minimum we recommend a comfortable beach seating area, sprinkled rose petals, tiki torches and candles for warm lighting, and of course a bottle of champagne to toast your special wedding proposal. The best time of day for a beach wedding proposal is right at sunset when the sun and sand are cool. Once the sun sets, you can enjoy the warm night and watch the waves roll in.
Something Intimate
Private Suite Proposal
Last but certainly not least, if you are planning on booking a luxury suite on the edge of the caldera cliff with a sunset view, we cannot find a reason for you not to bend your knee in the comfort of your private terrace. All you need is some flower arrangements, lots of candle light, rose petals in a heart shape and champagne to celebrate in pure luxury and style!
Is An Event Planner Needed For A Wedding Proposal In Greece?
Proposals require less planning than a wedding, but definitely require planning and booking ahead of time! Santorini is the most popular Greek islands for weddings and proposals and venues are booked well ahead of time.
Even though we are event planners, the truth of the matter is that we highly recommend having a local event planner to handle the details for your proposal – it will save you such a huge headache and hassle. Having a trusted planner like MILI LO by your side means that we plan all of the logistics from start to finish – including tailor designing all the details to suit your personal style and taste, decorating your private suite or arranging a romantic dinner.
We also handle things like getting to and from your hotel to your wedding proposal location of choice, helping you find a local photographer to capture your special engagement, and making sure everything comes together for an absolutely perfect proposal moment!
A wedding proposal in Santorini only happens once in a lifetime and we understand that every detail must be perfect. Get in touch with us here – we'd love to hear what you have in mind for your wedding proposal!
LET'S PLAN YOUR BIG DAY,
TOGETHER!
AS FEATURED ON

​