Handmade By MILI LO
Custom Gifts
Spread Love With Special Gifts For Your Favorite People
Inspired by your love to give and infused with our creativity for design, our personalized gifts are distinct and authentic. Each gift is a celebration of individuality, imagination, and creativity. Our handmade creations are meaningful – they are a unique way to show your love and appreciation, and a sure way to give a huge smile!
At MILI LO we thrive when we're inspired to think innovatively and creatively, and our passion for personalization to create with our hands comes very naturally.
''Growing up I was easily inspired by the world around me, my imagination would run wild, triggering so many creative ideas. I was always inclined to make things with my hands using simple materials, whether it was to make a birthday card, handmade gifts or name cards for a dinner party and for just about any kind of occasion. My eyes and mind were always easily amused and I found myself doing creative projects, sometimes re-purposing materials to make something new. It was such a great feeling, as my own hands could make just about anything; not to mention that each piece was a one-of-a-kind creation!'' Learn more about our Founder Emily here.
No matter where you live in the world, our personalized love gifts can be sent to your partner, a parent or grandparent, your child, a friend, or even to a teacher or colleague. From custom designed scrapbooks with your own pictures, handwritten messages, to tastefully designed 'love in box' surprises, our personalized gifts are tailor-made to meet your needs, reflect your unique personality, and express your feelings of love and gratitude.
If you'd like to send a thoughtful handmade gift, we'd be honored to be part of making it genuine and absolutely special! All you need to do is share a few words about the person you're giving to, a phrase or two about their personal style and leave the rest to us. As experts in gifting, we'll take very special care to create a personalized handmade gift, beautifully curated that will be appreciated and cherished!
Send a gift of love to say Thank You, I Love You, Happy Birthday, Happy Anniversary, Congratulations, Get Well, Happy New Year or just because!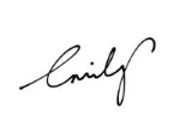 A-Z Concept & Idea Suggestions
Fully Personalized Creations (Handcrafted or Handmade)
Tailor Made Stationary Design & Monograms
Delicatessen or Specialty Hamper Baskets
Beautifully Curated Love Surprises
Uniquely Personalized Gift Wrapping
Direct Delivery To Recipient Worldwide
All The Fine Details To Surprise Your Loved Ones
LET'S PLAN YOUR BIG DAY,
TOGETHER!
AS FEATURED ON

​