Hosting A Luxury Yacht Event In Greece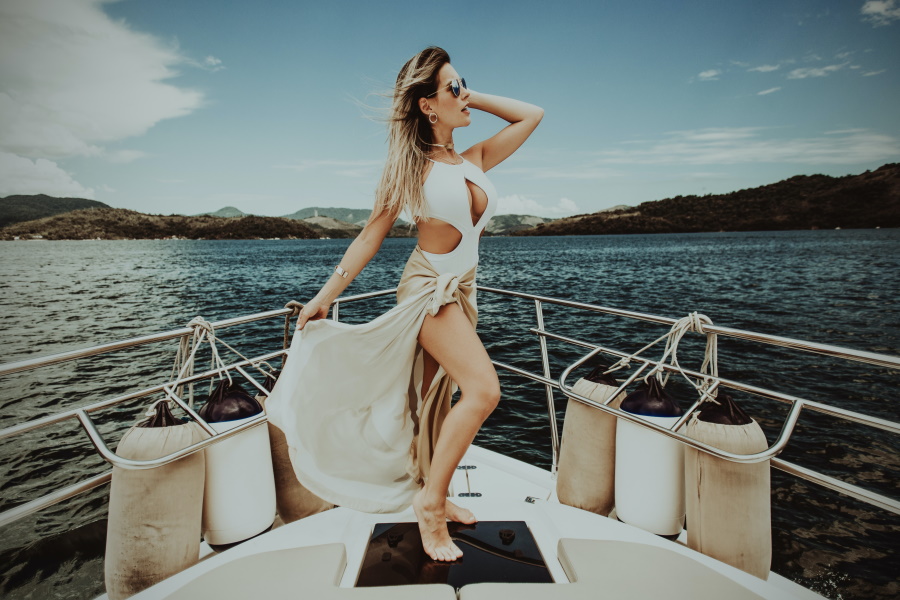 So you have a big event coming up and you're looking for unique ways to celebrate!? Well, sometimes coming up with a great idea can be a challenge. Let us share with you one of our favorite event ideas → chartering a luxury yacht! It is a perfect choice if you're envisioning an exclusive event with a glamorous atmosphere, on the glorious Greek sea.
Whether it's a birthday party, wedding, or proposal, we fully believe that every life milestone, no matter how big or small, deserves to be honored with a special celebration. After all, you only celebrate your 30th birthday once, and of course you don't find your soulmate every day. So, why go with something ordinary when you can experience the extraordinary! And by extraordinary, we mean ultimate privacy, unique luxury amenities and against a spectacular backdrop of endless sunshine, clear blue sky, and crystal clear water. Need we say more?
Yachting is the perfect way to celebrate any type of event!
No matter the occasion, you can never go wrong with a yacht event. You could be thinking of hosting an intimate wedding with just you, your partner, and a few guests, or a grand family affair to celebrate your baby's baptism, or perhaps a rollicking bachelorette party; luxury yachting in Greece is a surefire way to impress your guests, all-the-while making memories that you will cherish forever.
Need something totally original, outside-the-box with guaranteed wow factor for your next corporate event? Did we surprise you? Well, in an ever-more competitive world, finding new ways to impress clients and reward or inspire staff can be a challenge. A luxury yacht celebration will definitely create a dazzling impression on your potential clients and improve your employees' motivation and appreciation. You can't go wrong, it's totally a win-win situation!
Oh, oh – is sailing not your cup of tea, but you absolutely want the experience of throwing an amazing party on a luxury yacht in Greece? We got you covered. We'll plan everything exactly as you like and make it a docked event. The end result? All the razzle dazzle without the 🌊 !!
Sailing the Athenian Riviera
One of the advantages of celebrating your big event on a luxury yacht in Athens is that you can choose from quite an array of jaw-dropping locations. Sailing the Athenian Riviera is a quintessential Greek experience that is rewarding in every respect. Gleaming with grandeur, this corner of the Aegean Sea is a true paradise where incredible natural landscape meets urban architecture, seaside panoramas, and yes ancient temples like no other. It's not by accident that Athens' waterfront has joined the ranks among Europe's hottest locales.
If you prefer to get a taste of the Greek islands, then we can arrange for you to sail to one of the islands close to Athens in the Saronic Gulf like Aegina, Hydra or Poros. You'll celebrate your event with views across pistachio orchards, delightful bays, and mythical treasures.
What to expect in terms of budget
The cost of chartering a yacht in Greece for an event can range from €4k to €10k (or more), plus our consulting and planning services. Of course, the sky's the limit for added extras that align with the theme of your event; we can take care of everything from floral arrangements, balloon decor and furniture settings to themed dessert bars, photo backdrops, and lighting.
We can also arrange all of your vendor selections, including photographers, videographers, musicians, and caterers, so you can enjoy your special day stress-free. We work with Greece's top service providers to ensure your expectations are met, and more often exceeded.
Always personalized and tailored to you
Creating bespoke events is what we do best. For us, an event is in perfect harmony when it is an accurate reflection of your unique style and personality. And it goes without saying that we always aim for nothing less than our utmost best in making your dream event become an experiential reality.
Get in touch with us and let's start planning your unique yacht experience in Greece – it will be nothing less than an awe-inspiring success!
LET'S PLAN YOUR BIG DAY,
TOGETHER!
AS FEATURED ON

​