Top 2022 Spring-Summer Event Trends You Need To Know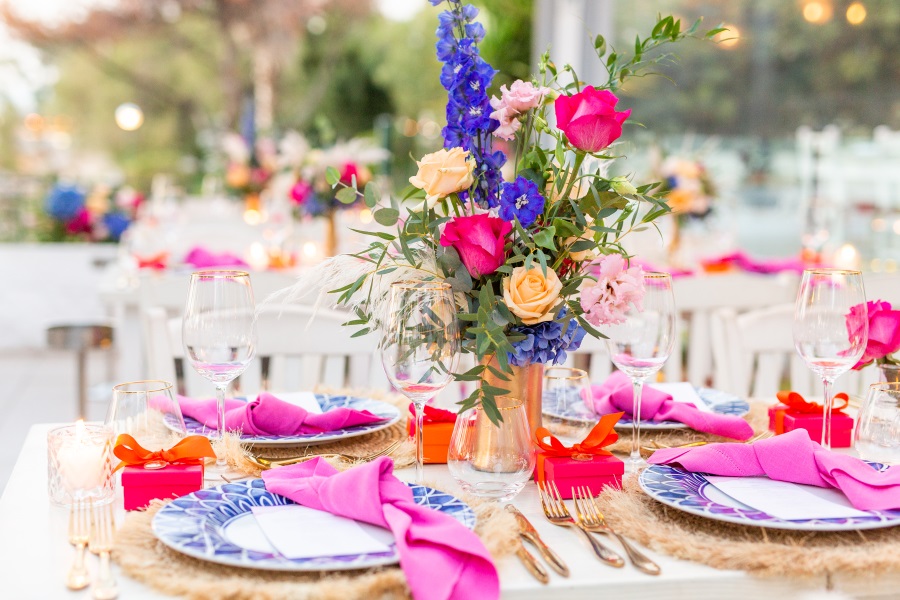 ​During the last couple of years, events have undergone some major changes. Even though there are still some lingering effects of the pandemic on the event industry, and certain limitations still remain, it's looking like big celebrations are finally back. And, they are even bigger than before!!
This new year is all about partying once again, and this return to fun mode has influenced event trends across the globe – things like destination events, bold colors, interactive entertainment, and an even more customized guest experience. From weddings and baptisms to dinner parties and corporate events, discover and get inspired by these top trends for the upcoming 2022 spring-summer season.
Colorful Events
One thing is for sure about this year's events – they will be colorful! Bright colors like blue, cherry red, purple, and gold are a major trend but tried and true neutrals, like ivory and cream, are still in the picture. This means that you can combine the elegance of an all-time classic white palette with the energy of bright splashes of color to surprise your guests and create a refreshing look for your event. And since this year is all about breaking tradition, there's a growing popularity in colorful wedding dresses too. Picture it, an emerald green gown – such a fashion-forward yet chic choice for a bold bride.
Destination Events
With travel being possible again after such a long time, it's only natural that destination events, particularly weddings, are on a rapid rise. There's something really special about faraway celebrations in idyllic destinations, and of course Greece is one of the world's most beautiful locations for a destination event. Just imagine hosting your special occasion on a luxury yacht, in the middle of the sea, with the Aegean breeze gently stroking your hair and the Mediterranean sky filled with the warm colors of a beautiful sunset – such a lifetime experience!
Big Parties
Big parties are back, and they're here to stay! Hitting pause on so much of life in the last couple of years has made us all want to feel free, to celebrate, to spend time with our loved ones, and to have as much fun as we possibly can. This is the exact spirit inspiring event planning this season. Large guest lists, big and over-the-top design elements, statement floral installations, an upbeat atmosphere, and a focus on entertainment are some of the main characteristics for a once-in-a-lifetime event that will put a huge smile on everyone's face!
Intimate Weddings
Although large-scale, blowout events are gaining ground, 2020's micro-weddings and micro-events have made a lasting impression. More and more people have come to embrace the intimacy of small events and prefer them over grand affairs. Micro events are not about the guest list, but more about the feeling of warmth, the sense of familiarity, and cozy vibes. Isn't this what we all love about intimate weddings?
Interactive Entertainment
We are dawning a new era when it comes to entertaining guests, and 2022 events are all about giving guests a truly unforgettable experience. Over-the-top musical elements and fabulous performances are becoming top trends right now. However, entertainment doesn't mean just music. It could be anything, from a dance competition to a magic show or a karaoke session that will take your event's wow factor right over the top!
Sustainable Events
And last but certainly not least, a trend that is not really a trend but a lifestyle shift, sustainable events are simply a must no matter what type of event you're hosting, and no matter where you're hosting it. Choosing greener vendors, using online save-the-dates and invitations, recycling, donating or repurposing flowers after your big day, and going for an entirely vegan menu are just a few ways to host an event that considers the whole, and not only its in-the-moment bliss.
Are you ready to start planning your 2022 event in Greece? We'd love to be part of it and are here to help you plan an event that is as unique as your individual style and personality. Whether it's a spring-summer event or a fall-winter one, we are looking forward to hearing from you! Get in touch with us and let's start planning some fun and happy lifetime moments!
LET'S PLAN YOUR BIG DAY,
TOGETHER!
AS FEATURED ON

​