Picking A Color Palette For Your Event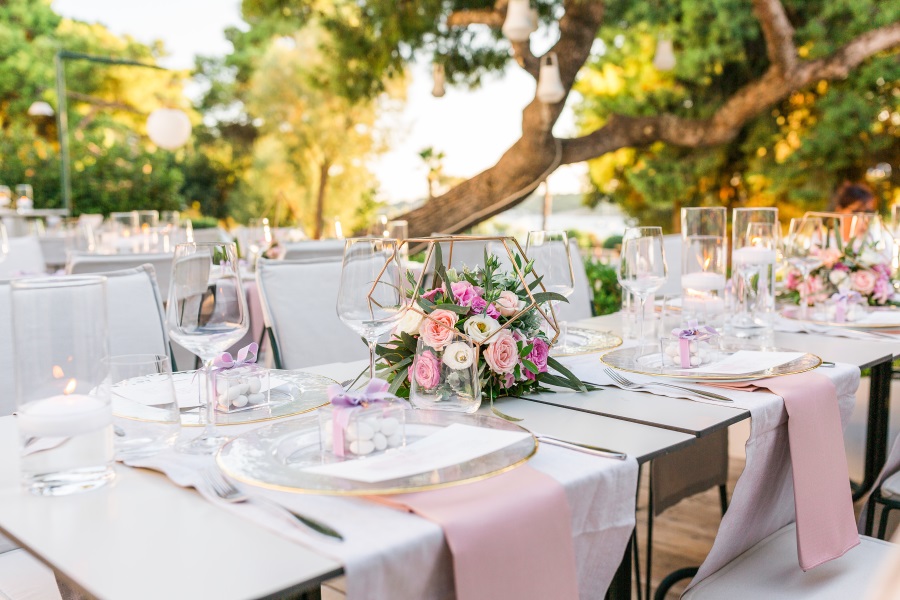 According to color psychology, colors have qualities that trigger certain emotions. Assuming this is true (according to science it is), then the colors you choose for your event are of the highest importance when it comes to enhancing your guests' experience.
No matter what kind of event you're planning, be it a wedding, a baptism, or a party, your color palette can either make it or break it. What are the 'rules' of choosing your event colors? They can be aligned with the latest trends but should also reflect your unique style, and of course there are many other factors to consider! To help you out, here are some tips on how to make the best color decisions for your next event.
Get Inspired By Your Setting
When choosing your event's colors, one thing you should definitely keep in mind is your venue. You don't want your color palette to clash with the overall setting of your event. If you have your heart set on a specific palette, go with a venue that employs neutral colors. Natural elements, like wood and stone and earthy tones go with just about any color. If you have an outdoor venue, consider incorporating the colors of the natural surroundings into the palette to keep the outdoor vibes flowing throughout. Keep your eyes open to find anything that can spark inspiration, from a vintage Persian rug in your venue's dining room to the view of the ocean and the crimson red sunset.
Remember Your Priorities
Apart from the venue, there are other details you need to consider before choosing your colors. For example, if you've always dreamt of having purple orchids on your wedding day, it would be a sin not to do so just because they don't match with your event's color scheme. If you have certain flowers or accessories you absolutely want to have at your event, make sure to choose a color palette that enhances them and makes them stand out.
Pick In-Season Colors
Just like your wardrobe, your event's color scheme can be inspired by the time of year. If you're hosting a Christmas party, for example, you may want to stick with winter colors such as white, ice grey, or red. On the other hand, if you're throwing a spring or summer party, pastels and bright colors like pink and yellow are perfect! Fall colors can include oranges, browns, maroons, bronze, and other warm shades. This, however, doesn't mean you should stay away from colors you love, just because they are not in season. Of course, there are colors that can be used year-round, such as invigorating yellow. And last but not least, another important aspect you should consider is texture. For example, bright fuchsia is considered a summer color, but velvet fuchsia curtains would be ideal for a luscious winter wedding!
Keep The Color Wheel In Mind
The color wheel is the main tool to use when it comes to figuring out what colors look good next to each other. Typically, colors that go well together are ones that are opposites because they pair coolness with warmth. Think deep purple with bright yellow for example, or orange with turquoise. Another winning combination is one main color with a color directly next to it on the color wheel, such as yellow with melon orange.
Consider The Emotions Of Colors
We already mentioned color psychology and the effect colors have on people's emotions. When deciding on your color palette think of the emotional responses associated with certain colors. Red, for example, the color of passion, can excite your guests, increase arousal levels and blood pressure, while violet is linked with spirituality and is said to reduce stress and foster an inner sense of calm. What vibe do you want to create for your special day? Do you want to put your guests in a relaxed frame of mind by using baby blue or are you going for a dramatic bold atmosphere that is better resonated with an emerald green?
Unique Color Combos We Love
Blue, Orange, Yellow, and Red
Red, Orange, and Sage
Pink and Purple
Blue, Pink, Orange, Coral, and Green
Blue, Orange, and Yellow
Purple, Orange, and Yellow
Red, Pink, and Green
Maroon and Yellow
Pink, Orange, and Green
Blue, Purple, Gold, and Black
Navy and Orange
With all that being said, creating a color palette that lends itself to the venue, adds wow factor to your event, and takes emotional triggers into account, is not an easy task. Feel free to get in touch with us and we'll be sure to help you come through the wonderful process of event planning with flying colors!
LET'S PLAN YOUR BIG DAY,
TOGETHER!
AS FEATURED ON

​