Planning A Smash Cake Birthday In Athens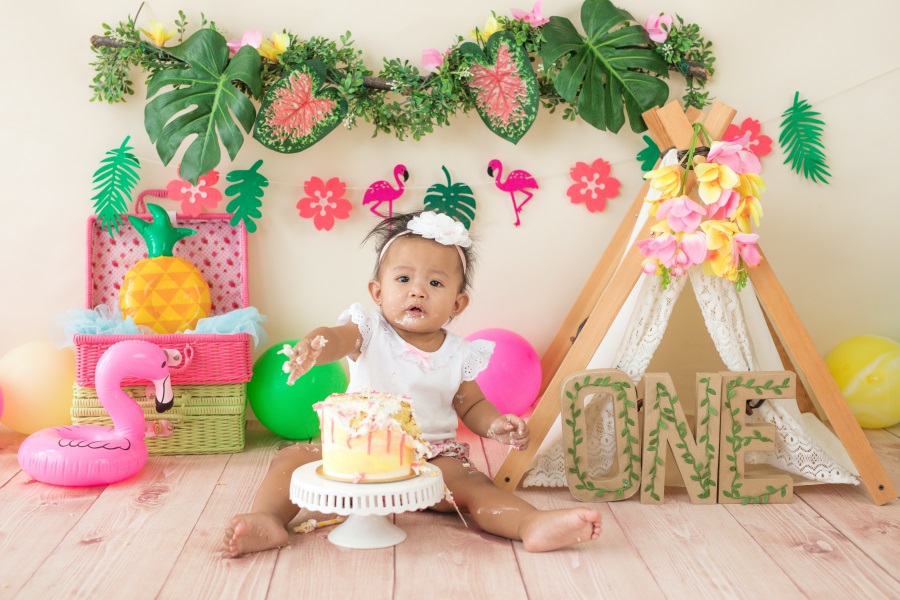 ​Is your little one's first birthday party coming up? Are you looking for an opportunity to take adorable photos that you will cherish for a lifetime? If so, a cake smash may be just what you're looking for! But, what exactly is a cake smash?
In case you haven't heard of it, a cake smash is a tiny cake specially made for a baby's first birthday to do whatever they want with it. And, for 1-year-olds, this essentially means that they're probably going to put their hands in and play with it or even "smash" their little faces into it. It can get a little messy, but we promise you, it's a whole ton of fun!
Why should you plan a smash cake birthday?
A child's first birthday is a huge milestone both for the child and the parents. After one year full of growing, tears, giggles, laughs, and so much love, your little one is shifting from months to years in counting, and just about now you start thinking about how time flies and what you can do to make the most of their time as a baby.
A smash cake birthday is about this exactly – celebrating this terrific roller coaster of a year and making memories that will last a lifetime! It is a super fun way to let your baby's personality shine and celebrate how much they've grown in one year, all the while taking delightfully cute photos! Let your baby be their true selves and play with the cake, smearing the frosting all over the place and making a huge mess of things.
How can MILI LO help?
Planning a smash cake birthday can be quite overwhelming, so we take the stress out of planning this event for you! After all, having gotten through a whole year of baby life, you deserve to take a day off and have the time of your life with your baby!
All you have to do is answer a few questions that we have prepared for you; this will help us to get an idea of what you have in mind and what kind of personality your baby has. Then, together we will decide on the smash cake theme and color scheme. For example, if your baby boy's favorite toy is a fire truck, then a fire station is an ideal theme, to begin with. Maybe your little girl loves collecting flowers? How about a secret garden theme? We'll make sure that the result reflects your baby's personality in the best way possible!
After we have agreed on the theme, we will design a creative backdrop with customized crafts, balloons, flowers, and toys. Then, we'll recommend our favorite local patisseries and help with choosing the perfect cake; next we'll take time in planning outfits and decor, something to match the theme and suit your little one perfectly! Of course a beautiful location, and arrangements for a professional photographer to capture the big moment are also part of the stress we'll alleviate for you.
A cake smash birthday can either be a small, intimate celebration outdoor or indoors or an extravagant affair. It's totally up to you, and we'll discuss all the details and explain the entire process so that it is exactly what you envision and you don't have to think about a thing. We'll give you plenty of tips, like what are the best cakes to smash or how big they should be, and of course, walk you through the dos and don'ts.
If you're not a fan of cake, there are fun alternatives such as donuts, watermelons, strawberries, pasta, and even pancakes! We'll design the concept around whatever idea you like. Imagine a strawberry wonderland, for example, or even a donut shop!
When to start planning your smash cake birthday in Athens
If you plan to use the photos as the baby's first birthday party invitations, then you should contact us to start planning about 2 months before the actual birthday. If you'd like the photoshoot to be part of the celebration or want to display the pictures at the baby's birthday party, then you should contact us 3 or 4 weeks prior to the actual birthday.
A smash cake birthday is best described as a gorgeous mess! It is a time to fully embrace the fun and chaotic nature of babies. As you watch your little one go nuts with the cake, imagine all the hilarious and very precious memories you're making.
We're excited to hear from you and start planning your unique smash cake birthday – get in touch with us let's make it an unforgettable first birthday celebration!
Oh, and stay tuned for our mini celebrations for your 4-legged friends too!
LET'S PLAN YOUR BIG DAY,
TOGETHER!
AS FEATURED ON

​