2021 Event Trends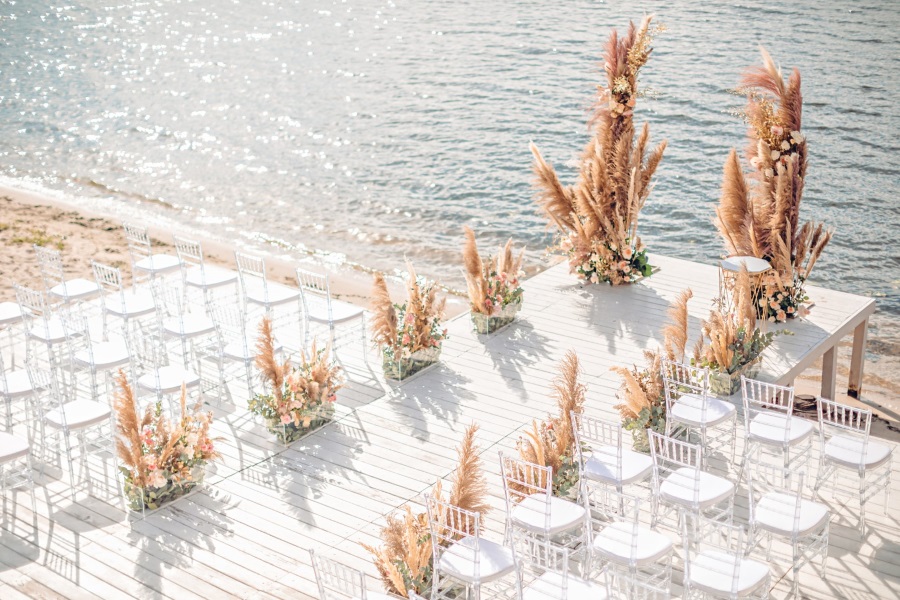 It's the beginning of a brand new year and we certainly live in a whole different world than we did at the dawn of 2020. Last year has been unprecedented for all of us and, along the way, it brought drastic changes to many things, including the event industry.
So, what new trends have emerged and what does the event industry anticipate for the year ahead? This blog dives into 2021's major event trends, with an extra little focus on weddings!
#1 Relaxed & Informal
The pandemic and corresponding restrictions on crowd sizes has naturally brought a rise in small events. Whether it's a wedding, a baptism or any other celebration, having a large guest list is no longer trendy; small and more informal gatherings are at the top of the event trend list for 2021. If you want to celebrate a special occasion you can do so just as memorably in a more intimate and meaningful fashion, inviting only your nearest and dearest. This trend has become extremely popular, especially when it comes to weddings, with what's being referred to as a micro wedding, which include no more than 20-25 people.
#2 Wedding Now, Party Later
A brand new wedding trend that will surely define 2021 is the 'wed now, party later'. Fuelled by event restrictions, this new age concept will have couples saying their vows and becoming Mr & Mrs as soon as possible, but saving a date in the future to host a big guest list celebration!
#3 Extended Celebrations
With intimate events on the rise, couples are looking for unique ways to impress their smaller guest list, and what better way to do so than celebrating for a little (or a lot!) longer? A consistently growing trend is the 'extended celebration,' which means that your special event is set over a longer period, be it a weekend or even a whole week, rather than just a day!
#4 Personal & Fully Customized
Originality is trendier than ever, and this means giving your own personal touch to your special event. Bringing out your unique style and personality in your event is a must-do, and people are constantly searching for ways to achieve this originality. Areas such as food and drink are becoming more personalized, from signature cocktails to custom made cakes, while tailor-made favors and handmade invitations are becoming ever popular.
#5 Eco-friendly & Sustainable Events
Adopting an eco-conscious lifestyle has become, now more than ever, vital, and more and more people are trying to be eco-friendly in different areas of their lives, including the events they host. So what does it mean to host responsibly? It means cutting back on unnecessary waste and trying to be as environmentally friendly as possible. And how can you achieve this? Choosing sustainable venues, upcycling, or going plastic-free on your big day are just a few ways to make your event more 'green friendly.'
#6 Destination Weddings
Destination wedding getaways have already been popular for quite some time, and we definitely don't see this trend slowing down in 2021. Although it may seem a bit hopeful with global travel still being questionable, it's anticipated that within 2021 there will be a dramatic increase in destination weddings. In fact, the trend is likely to be about combining the pre-wedding party, the actual wedding, and the honeymoon into one extravagant trip abroad. Just think of it, you and your loved ones enjoying all of your wedding events in a dreamy destination!
Overall Event Decor Trends For 2021
When it comes to decor, one of the clear trends for 2021 is the inclusion of luscious greenery, be it ferns, succulents, or garlands of eucalyptus, they all make for a fresh and natural look and feel. Hanging flower decorations will also be a huge hit this year; think, for example, of a table setting with a lush floral chandelier using colored baby's breath blossoms suspended above table settings. 2021 will also continue to see the use of acrylic, impressive balloon setups, giant paper flowers, asymmetrical floral centrepieces as well and neon letter signs which have been popping up all over the place!
As for color, we can expect to see 2021's Pantone colors of ultimate gray and illuminating yellow, two warm and comforting hues that form an optimistic color combination. Other 2021 colors include teal, mocha, rosy peach, and smoky white.
Whatever the trends though, don't forget that every event is unique and a reflection of your true self! Share your event vision with us and together we will make your dream come true.
LET'S PLAN YOUR BIG DAY,
TOGETHER!
AS FEATURED ON

​