Why Pick Greece As A Destination For Your Next Event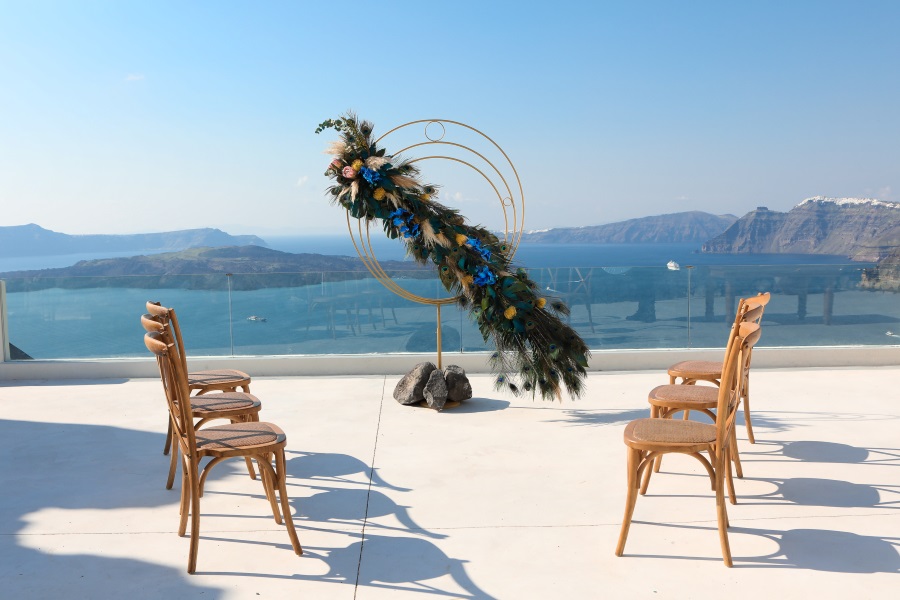 There is really no place like Greece to host your special occasion! Whether you're hosting a destination wedding, planning an intimate proposal, celebrating a milestone anniversary, or organizing a baby's baptism, Greece – the motherland of sea, sun, and fun – offers something truly exceptional for every personality and style.
The country boasts unique and varied landscapes, from mountainous villages and historic towns to luxurious seaside resorts, and bustling cities – you're absolutely spoiled for choice! Greece also enjoys a fantastic year-round climate with excellent activities for visitors, not to mention that prices are typically better when compared to its other European counterparts. Add delicious local food and Greece's much celebrated authentic hospitality and there you have it, an exceptional destination for your next special event!
If you need more reasons to fall in love with Greece, keep reading…
#1 THE WEATHER
Nothing puts a damper on your special day more than bad weather. In Greece, you don't need to worry too much about grey skies and rain, because Greece boasts 300 sun-drenched days a year! And this means that you can practically guarantee glorious sunshine for your event. Winters in Greece are mild too, offering the perfect backdrop for all types of events, such as an utterly romantic destination proposal!
#2 QUALITY OF SERVICE AVAILABLE
When organizing your special event, it's only natural to want the very best. Lucky for you, Greece offers top quality services, luxurious venues and high-end vendors for your event, including refined florists, passionate photographers, and to-die-for gastronomy. There are also a dazzling array of luxury venues, such as world class hotels and resorts that can host sophisticated events and satisfy guests with even the most discerning taste; peripheral services like luxury cars and yacht rentals, private cruises or leisure activities are also readily available and at high value for money.
#3 VARIETY OF SETTINGS & SURROUNDINGS
Although mainly famous for its islands and beaches, Greece is much more than sea and sun. Privileged with impressive mountains, thick forests, and refreshing rivers and lakes, Greece is a destination blessed with stunning landscapes to discover. It is a country with a truly unlimited array of destination options that satisfies every style, preference, and budget. In Greece you're sure to find a location that speaks to your heart.
#4 EXPERIENCES & ACTIVITIES
Greece is one of those destinations where you'll never get bored. It's a cultural haven, a natural wonder, and, of course, a gastronomical paradise! When in Greece there are so many things you can do that you'll never run out of ideas! Imagine hopping on a private sailboat and exploring the famous Greek islands, walking the footpaths of the ancients, exploring majestic mountainscapes, visiting a vineyard to taste exceptional wine, or simply going to a traditional tavern to enjoy a great culinary experience and get your groove on to some good old Zorba the Greek!
#5 RICH HISTORY & CULTURE
Greece's historical heritage is indeed incredible. The country is a cultural paradise, host to some of the most famous landmarks around the world. Whenever you choose to host your event, you're never far from places of great historic and cultural interest. Archaeological sites, temples, and monuments are everywhere; the capital of Athens is full of history, Santorini, Crete, Nafplio, and many more!
#6 WARM GREEK HOSPITALITY & TRADITIONS
In Greece, you will discover the true meaning of hospitality – it is a country of generous and kind people. The locals are warm and welcoming, always eager to serve and help. Greeks are also known to nurture their traditions and share them with visitors, and when it comes to weddings and baptisms, these are inseparable from local traditions; hosting such lifetime events in Greece means that you'll create memories that will forever be engraved in your heart.
Anyone who has been to a destination event knows that it's about an immersive, lifetime experience that will always be remembered fondly. Greece's unbeatable history, sun kissed coastlines, crystal blue waters, delicious cuisine, diverse activities, and incredibly welcoming people make it (more than!) an ideal destination for your next event.
Did we convince you to come to Greece!? We look forward to meeting you and showing you all the wonderful things about celebrating your special event in our beloved country. Get in touch with us and let's make your event in Greece one to remember!
LET'S PLAN YOUR BIG DAY,
TOGETHER!
AS FEATURED ON

​