The Most Enchanting Winter Proposal Destinations In Greece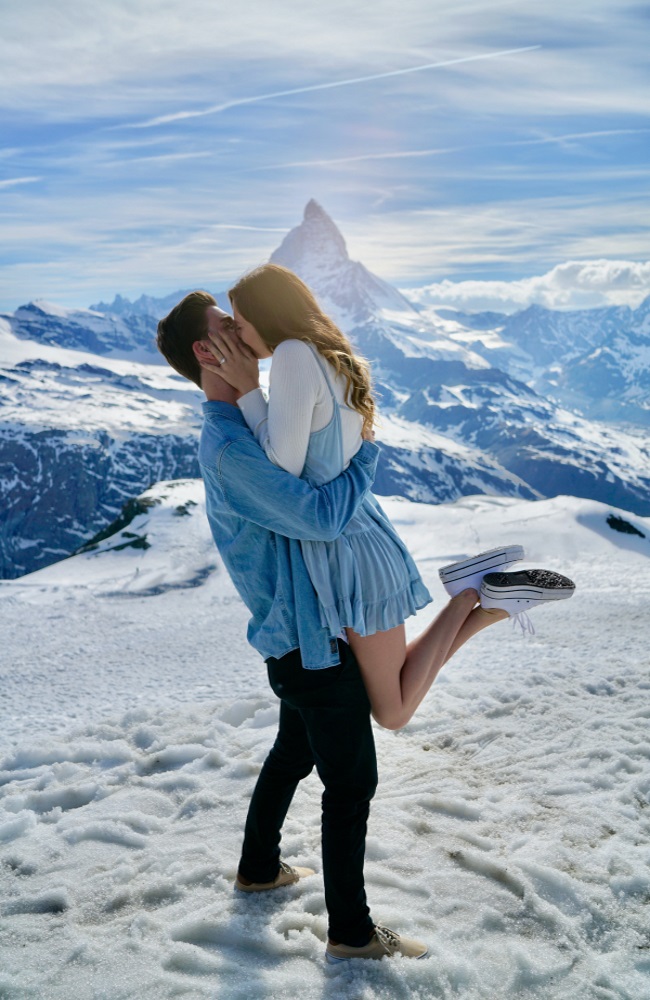 Besides the magic of the holidays and the passion surrounding Valentine's day, freshly fallen snow, beautifully lit fireplaces, and snuggling under the blanket are all reasons that make winter a truly romantic season! Winter is full of great opportunities to propose to your other half!
And now you're thinking, how can I make this moment extra special? By planning a dreamlike destination proposal in Greece, of course! Although Greece is typically thought of as the ultimate summer destination, thanks to its exceptional Mediterranean climate and glorious sunshine, Greece is a wonderful destination all year around. Although you may not be able to swim at the beach during the winter, there are so many exceptional destinations just perfect for popping the question! Here are some of our favorites:
Monemvasia
This uniquely preserved medieval castle town is an ideal romantic hideaway. A magical place, distinguished by charming wildness, rich history, and profound romanticism, Monemvasia will take you on a journey through time. Vaulted alleys, noble mansions, and, of course, the legendary castle, all contribute to its fairytale atmosphere. As you stroll along the dimly lit cobbled paths, bend down on one knee and ask your partner to marry you against the backdrop of the glistening sea. Given the town's mystical allure, a glorious 'Yes!' will be the answer you receive.
Arachova
Nestled on Mount Parnassos, and exuding a distinct cosmopolitan charm, Arachova is one of Greece's most popular winter destinations. A bustling mountain resort town, it is a perfect destination for those who appreciate old-world charm, but also numerous winter sports facilities! Opt for the ski slopes for a more adventurous wedding proposal or a wooden chalet if you prefer something more intimate and cozy. After all, there is nothing more romantic than cuddling up together beside the fireplace with a steaming hot mug of cocoa or your favorite bottle of champagne!
Meteora
Majestic and dramatic, inspiring a sense of spiritual fascination, Meteora is one of those places that leaves a mark on you. Surreal landscapes, overwhelming rock formations, and gorgeous monasteries perched on the edge of sharp cliffs make Meteora a breathtaking sight. During winter, the landscape turns into a snow-covered wonderland, just perfect for a winter wedding proposal. If you and your special someone are outdoorsy types, then there's no better way to propose than along one of Meteora's impressive hiking trails!
Zagorohoria
Beyond the Pindus Mountains in northwestern Greece lies the magical region of Zagorohoria. This cluster of 46 stone villages conceals the beauty of master craftsmanship and the luxury of time that somehow seems to stop here. Snow-capped peaks of the massive mountains, virgin forests, and impressive gorges compose the area's wild landscape. Numerous villages and many winter sports and adventures await you in Zagorohoria, including rafting, canyoning, and horse riding, all providing a perfect setting for a winter wedding proposal in Greece.
Athens
fascinating year-round destination, Athens is an extraordinary city full of history, studded with important archaeological monuments and world-famous landmarks. A romantic stroll along the historical paths of Plaka that lead to a surprise proposal, a 'photo shoot' at the summer palace estate of the former Royal Greek family, or for a more luxury proposal in Greece, a chef prepared private dinner for two in a cozy apartment or hotel facing the dramatically lit Acropolis – an experience that will be cherished forever. Learn more about Top Proposal Spots In Athens here!
No matter what destination you will eventually choose, we are here to help you every step of the way, always taking your unique vision and style into account. If we've inspired you to propose in Greece, then we'd be honored to be part of making this moment truly meaningful and memorable.
Get in touch with us and let's start making your dream proposal in Greece a reality!
LET'S PLAN YOUR BIG DAY,
TOGETHER!
AS FEATURED ON

​