Private Villa Cocktail & Pool Party In Greece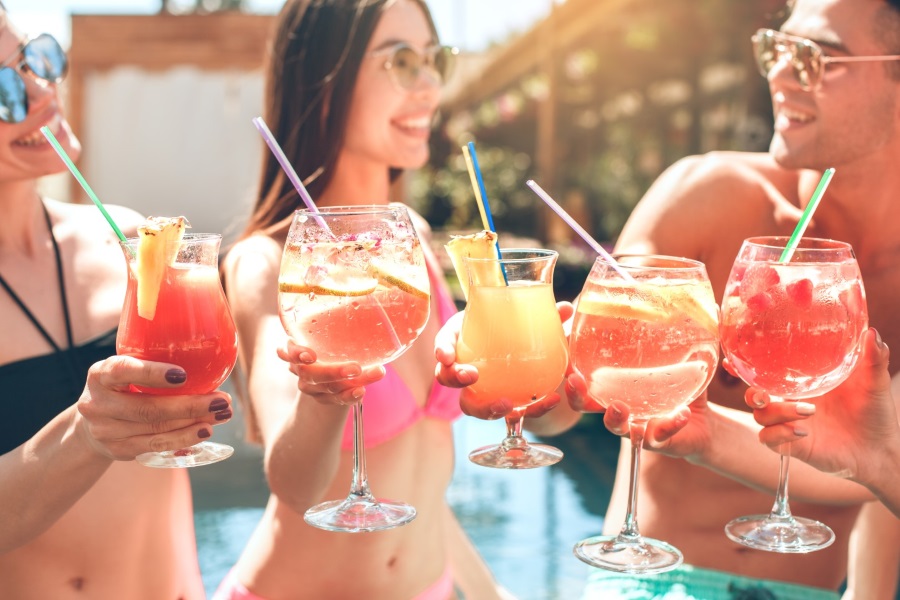 Can you think of a better way to experience the summer in Greece than planning a fantastic pool party!? And if you want to throw an epic party, then the location really matters too! At MILI LO we have an extensive portfolio of handpicked villas, exceptional party venues, and luxury yachts that will set the scene for a party you've always dreamed of. Whether it's for family, friends, or business, a party in a stunning villa in Greece is sure to impress. Your guests can lounge by the pool, sip cocktails while watching the sunset, and treat themselves to incredible local delicacies. We have extensive knowledge and experience in throwing fabulous parties and creating an atmosphere that will have all your guests feeling like celebrities!
At MILI LO we want to help you create the fondest memories and plan an exquisite poolside event that you and your guests will remember for years to come. Your party should differ from the ordinary and carry some elements of surprise and fine styling that will define it – this is what we absolutely love to do! That is why we provide full event design and planning services including styling and decor, catering services, audio, video, lighting, entertainment and exclusive Italian Award Winning furniture rentals to elevate your party.
Once we've finalized your venue choice, the first step in planning your perfect party is selecting impressive decor! The pool may be the centerpiece, however embellishing the outdoor area makes for a more festive environment. Fun, playful textures and bright colors emphasize a summer vibe while outdoor accessories like balloons can make things extra festive. We always pay close attention to floral design, since a chic and tasteful floral arrangement, such as white orchids or peonies, can truly add to the overall atmosphere of an event; a few stylish floats can also transform the pool into a beautiful oasis. Last but not least, tiki torches, candles, lanterns, and fairy lights all add to the overall atmosphere of the event as the sun begins to set.
One of the joys of a pool party is bonding over food and drinks! We can welcome your guests with a cocktail reception and serve a selection of summer delicacies with seasonal flavors to get the party started. As the party continues, you'll want to provide some heartier dishes to keep your guests celebrating with great drinks and food. Our team can create a wide range of food tables for your summer party, serving a selection of delicious summer dishes, such as tagliata steak, prawn flambe, mojito risotto or oyster and caviar dishes. And of course, nothing sweetens up a party like an overflowing dessert buffet, a visual delight to inspire your inner sweetness!
Drinks are also essential to any pool party. From signature cocktails to tequila shots, from delicious champagne ice pops to giant, flavorful fruit punch bowls, we can create an exciting drinks menu that will encourage your guests to experiment with flavors they may not have otherwise considered. We come up with creative ways to display your beverages and we can design the most stylish drink station that will get all of your guests mingling!
Sourcing some top-notch entertainment for your event is a sure way to impress your guests with an unexpected experience. Floating platforms can host amazing music shows and live performances that will excite the audience. Another way to dazzle your guests and add some mystique to your party is to hiring sync swimmers to give an astonishing dance performance in the water; an outstanding firework display is also an impressive addition to any party! We're always full of unique ideas and are experts in organizing all types of parties that bring people together for a lively and memorable experience.
We make sure to keep your guests entertained by designing various 'corners' around the villa, providing your guests with exciting activities. For example, a spa corner is ideal for indulging in a luxurious, pampering treatment, while a picnic corner, stylishly decorated with large poufs and cushions provide a relaxed and laid back atmosphere. We can also install a photo booth, a paramount accessory to any party, that will create a fun and comfortable environment for capturing once-in-a-lifetime moments. And finally, we want your guests to feel appreciated so we always recommend personalized party favors to make your event truly unforgettable; from custom party banners to welcome your guests, to personalized thank you cards, invitations and gift bags, we ensure that everyone feels warm, welcome, and happy!
As conscientious specialists in bespoke design, we pay close attention to delivering original concepts that strike a perfect mood and harmony for your party's occasion; we always listen to your desires and consider your personal event vision to plan a party that exceeds your expectations. With our zeal for meticulous planning, creatively designed decor and impeccable service offering, you're definitely in for an amazingly fun party in Greece!
Get in touch with us and let's start planning your next Private Villa Cocktail & Pool Party in Greece!
LET'S PLAN YOUR BIG DAY,
TOGETHER!
AS FEATURED ON

​