Hosting A Beach Party In Greece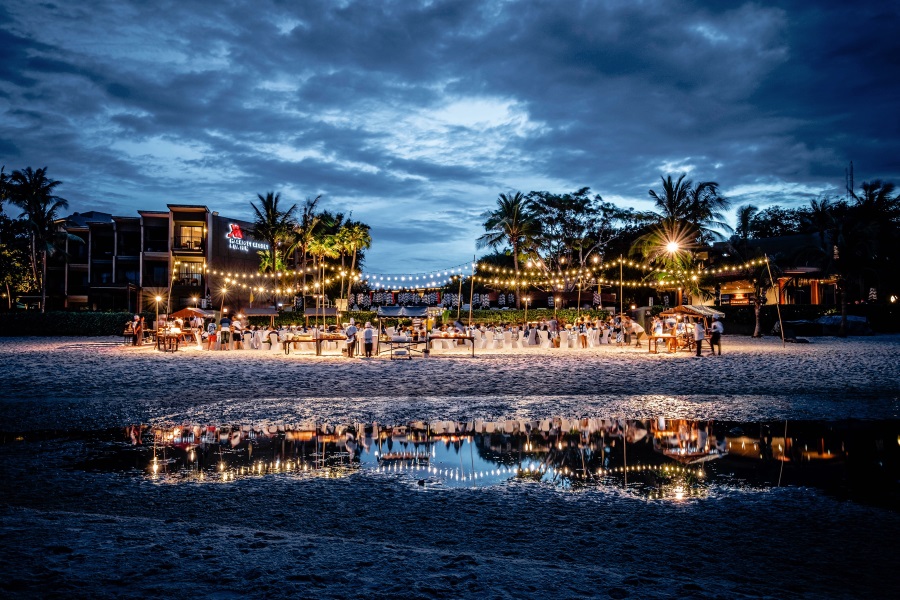 Few experiences capture the essence of summer in Greece as strongly as spending time at the beach; and the only way to make a perfect day at the beach even better is to host an unforgettable beach party! Picture it, sunshine, refreshing cocktails and sand between your toes – what else could you ask for? No matter the type of event or what occasion you're celebrating, whether you want to throw the ultimate bachelor party or organize a fun family event, choosing a beach party theme is a really great way to have a ton of fun and create everlasting moments!
A beach party is undoubtedly the epitome of relaxation and freedom, however, as everyone knows, the essence of a successful event lies in the details of the preparation and if you truly want your beach party to make an impact, you're going to have to put some forethought into it. Luckily, at MILI LO we're experts in organizing one-of-a-kind parties in Greece! We understand how important it is for you to enjoy your party and cherish fun moments with your guests and this is why we take the time to ensure that every detail is flawlessly arranged. From choosing an ideal beach setting, the best menu and the most impressive decor, we make sure that all your needs are taken care of, and all you need to worry about is the guest list!
To get the party started we must decide on the theme and decor. When it comes to summer soirees, we're fans of colorful themes with tropical elements. A multitude of exotic floral centerpieces, coconuts, pineapples, and palm tree decor will transform a plain beach into an oasis, transporting your guests to exotic places; decorative garlands and flower wreaths will also add to the tropical atmosphere. We can choose chic lounge and sitting areas with luxurious SEORA furniture, or keep it more rustic with bamboo furniture and comfortable poufs; having a gazebo offers a lovely and shady spot where your guests can relax. When it comes to lighting, fairy lights, lanterns and candles will create a magical setting in the evening.
Food is of course an important part of your party and we put a lot of effort into setting up stylish food bars. Our team always serves creatively presented and delicious dishes that also provide a great setting for guests to mingle and interact. For the menu we recommend traditional, picnic snacks such as fruit salads, mini hot dogs and burgers or pizza. We focus on creative and elegantly simple food design since it can transform eating any ordinary meal into an unforgettable experience. Watermelon turtles, egg surfboards, cookie flip flops, and biscuit sandcastles are only some of the endless possibilities to enhance the festive atmosphere and summer mood! Of course, we can't imagine a beach party without drinks and for this we arrange for fun drink bars that add a proper tropical vibe to your beach party in Greece, where guests can enjoy a light beer, a refreshing fruit juice, or a savory cocktail!
Keeping your guests entertained and engaged is also one of our major concerns. You and your guests can bond over an array of fun activities and games that we'll plan for you. Fun contests, like a beach volleyball contest, with a special prize for the winner, is a sure way to challenge your guests. We can hire a troupe of skilled fire performers for an outstanding fire act that will add an amazing ambiance to your party and dazzle your guests. Another cool idea is limbo dancing. Considered the official beach dance, limbo combined with upbeat, beach music to back up the dancers, promises endless hours of carelessness. Lastly, adventure lovers can provide their guests with some amazing and fun watersports.
Of course, a good host should show guests their appreciation and thank them for celebrating together. At MILI LO we're never out of ideas for expressing our gratitude to guests. We can create handmade gifts for your guests, such as a flower crown or a lei necklace, or perhaps you'd like something a bit more cheeky, like a funny hangover kit as a party favor. Something else we feel is very important to give guests is the chance to share their thoughts and experiences with their hosts and we take the "wishbook" to a whole new level with guests writing a short message on a surfboard or putting a special note in a theme decorated bottle. Can you think of anything dreamier?
At MILI LO we know that there is no better luxury than celebrating life experiences with your friends and loved ones. That is why we listen to your ideas and work with you step-by-step to design and curate your party concept to your exact wishes. We immerse ourselves in your vision and combine your individual style with our expertise in event design for a fully tailor-made experience!
LET'S PLAN YOUR BIG DAY,
TOGETHER!
AS FEATURED ON

​